MapleRidge Church:  Engaging with the surrounding community
MapleRidge Church wants to be an influence within our immediate community — Maple Grove.  To that end, we have engaged our church family in a number of topics and events important to people of our community.  These include:
CROSS Mobile Food Pantry – On the 3rd Monday of every month CROSS Services brings perishable and non-perishable food to MapleRidge and we give it out to those in our community who simply walk in the door and "shop."  If you or someone you know is in need of food, then this special ministry is for YOU.
 Alcoholics Anonymous – One group meets every Tuesday evening at 7 p.m. at MapleRidge Church, and a second meets on Saturday mornings at 9 a.m.  Come.  You are welcome.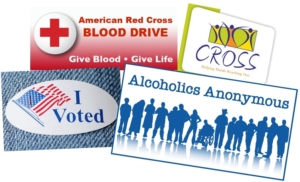 Election venue – When primary and general elections are held, MapleRidge Church serves as a venue for these elections and many people walk in our doors during these specific days.
Red Cross Blood Drive – Two to three times a year MapleRidge Church provides space for the Red Cross to come and conduct a blood drive.