Nursery
Nursery is available for children ages birth to 3 years during our services.
RidgeKids Sunday School (10:45 AM)
Curriculum:  Bible Studies for Life
Our "Bible Studies for Life" curriculum for our RidgeKids provides age-appropriate experiences for kids that will:
Apply the Bible to real life through Bible stories that guide them in decisions and teach them how to honor God throughout their day-to-day lives
Reach biblical milestones through the Levels of Biblical Learning, a proven framework or growth in God's Word from birth through sixth grade
We have three classroom groups based on age to tailor learning activities and foster relationships for our children:  Pre-K, K-2nd, and 3rd-6th.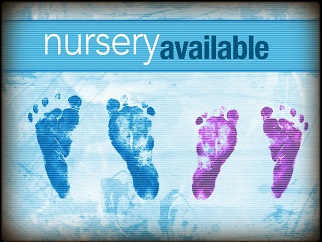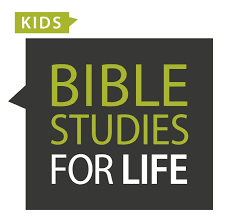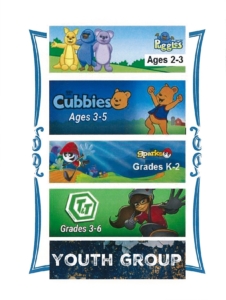 Welcome to the Awana program at MapleRidge Church!
MapleRidge offers our AWANA program on Wednesday nights from 6:00-7:30 PM from September to May
We have four AWANA groups based on age:
Puggles: ages 2-3
Cubbies: ages 3-5
Sparks: Kindergarten – 2nd grader
T & T: Grades 3-6
AWANA helps parents raise their children to know, love and serve Jesus Christ.  AWANA is our midweek discipleship club where children have the opportunity to memorize, study, and learn life lessons from important passages of the Bible to help them grow spiritually, and have a blast playing exciting games and participating in fun activities
AWANA is divided into three segments:
Opening Time: Kids worship and hear a Bible lesson specifically for them to apply to their life.
Games: Kids participate in fun and exciting games in our gym
Handbook & Small Groups: Kids memorize Bible verses and study Scripture in smaller age-appropriate groups.
We ask for a $30 registration fee, which includes the AWANA uniform, handbook, all awards, snacks, and Grand Prix car kit.  No child will be turned away for an inability to pay.
We also offer our Kids Café in the gym from 5:30 – 5:50 PM, which provides a free kid-friendly meal for those kids attending AWANA, in order to make Wednesday evenings easier for our parents.
Awana is a world-wide nonprofit ministry focused on providing Bible-based evangelism and discipleship solutions for ages 2-18.  As the global leader in child and youth discipleship, Awana gives children the opportunity to know, love and serve Jesus, no matter their background.  Registration for Awana is ongoing throughout the school year, so feel free to jump in anytime!
Kids birth through 6th grade are invited to join us for our RidgeKids Nights Out, a time of fun and fellowship for our kids from 5 – 8 PM on the 3rd Saturday of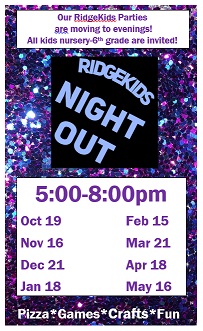 each month.  This is a great time for parents to enjoy some free time while we provide dinner and keep the kids entertained.  Each month will have a different theme, so every party will have new and exciting activities to enjoy!  If your kids plan to come, please make sure to sign them up for each event at the Information Desk at church!