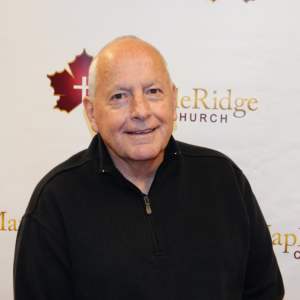 RESPONSIBILITIES
I began as an Elder for our church in January 0f 2023.  What interests me the most about this position is how best to serve the pastoral staff of MapleRidge.  My view is that if you take good care of them, they will take good care o f us.
MY FAITH JOURNEY
I became a believer around the age of six years old through my mother and the church I attended which as Berean Evangelical Free Church.  I was baptized while of member of that same church when I was seventeen.
I work for the ministry Timber Bay as the staff chaplain.  I began my ministry work with Timber Bay in 1973.  Over the years my job description has changed from work crew coordinator, staff supervisor, president, and staff chaplain.  At present, in addition to serving as the staff chaplain, I help with corporate fundraising.
FAMILY
I grew up in North Minneapolis with just my mother and one brother.  My dad died when I was a baby.  I married my wife, Terri, in 1985.  We have had not children of our own, however, we've volunteered as temporary infant foster care parents, where we have cared for 23 newborn babies.
PASSIONS FOR THE KINGDOM
I have always had a strong attraction to hurting people.  Working specifically with troubled youth through Timber Bay has only increased that interest.  I seem to often be running towards people that others are running away from.  It reminds me of the words written by the missionary C.T. Studd, who said, "Some want to live within the sound of church or chapel bell.  But I would rather run a rescue shop, within a yard from hell."
FAVORITE BIBLE VERSE
Proverbs 4:23 – "Guard your heart more than any other treasure, for out of it flows the direction of all life."
Luke 9:23 – "If anyone wants to be a follower of mine, you must demy yourself, pick up your cross daily, and follow me."
Philippians 4:6-7 (Amplified version) – "Don't worry about anything.  Instead, pray about everything.  Tell God your needs and don't forget to thank him for his answers.  And if you do this, you will experience God's peace which is far more wonderful than the human mind can comprehend, and his peace will keep your thoughts and your hearts quiet and at rest, as you trust in Christ Jesus."
HOBBIES
I have few hobbies, but the ones I'd name would be watching old movies from the 1940s and 1950s, and any movie or TV show that involves courtroom drama.  I also enjoy baking (people love my apple pie, and when they ask me what my secret is, I say I got it from the Betty Crocker cookbook)!
RECOMMENDED BOOKS
Tschiffely's Ride
Team of Rivals
Messy Spirituality
Improving Your Serve