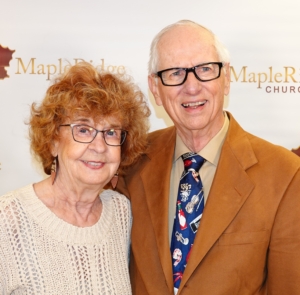 Deacons of Adult Education
RESPONSIBILITIES
We endeavor to select classes and form small groups that will grow our faith so that our church body will get to know Jesus better and love Him more.
MY FAITH JOURNEY
Bill:  I grew up in North Dakota and with my parents attended an Evangelical United Brethren Church where I committed my life to Christ at the age of 15.   I also had the privilege to attend a Bible College at Souls Harbor in Minneapolis.  This experience deepened my faith and expanded my Bible knowledge greatly.
Naomi:  I was blessed to have parents that taught me about Jesus and took me to church and Sunday School.  However, it was in Minnesota that I became born again at age 33 and my life was forever changed.  I have written Sunday School curriculum and have had many devotionals published, have team taught classes with Bill, and we inaugurated the current Wednesday evening prayer meeting.
PASSIONS FOR THE KINGDOM
Bill:  Hoping to bring people into a stronger relationship with our Lord and Savior Jesus.
Naomi:  I have had a ministry to widows for many years.  I also love to interact and pray for strangers in the market place.
FAVORITE BIBLE VERSE
Bill:  John 3:17; Romans: 10:9
Naomi:  2 Chronicles 16:9   "For the eyes of the Lord range throughout the earth to strengthen those whose hearts are fully committed to Him."
Psalms: 91
HOBBIES
Bill:  Photography; Computer composting
Naomi:  I love scrapbooking and reading Scripture and American, Greek, and Russian classics.
RECOMMENDED BOOKS
Bill:  LETTERS FROM PRISON by Dietrich Bonhoeffer
Naomi:  Anything by Billy Graham and John Hagee and Nancy Drew that I am now reading to the second generation.