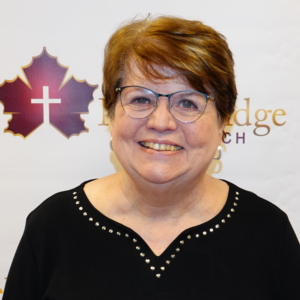 Deacon of Congregational Life
RESPONSIBILITIES
I lead the Congregational Life Committee in creating the social events of the church and providing for funerals held at MapleRidge.
MY FAITH JOURNEY
I began my journey as a Christian as a nine-year old, not realizing all the peaks and valleys to be encountered along the way.  God has been faithful and I can look back and trace His hand in my life ever since that time. Too many stories to write here, but just so thankful that with each crisis/tragedy we have encountered God has brought Bob and I closer together, when circumstances could have pulled us apart.
FAMILY
I met my husband, Bob, while in my last year of nurses' training (1964).  We were married in May of 1965.  We have one son, Michael,  in heaven; another son, Steve; and a daughter, Dena, who has blessed us with three grandchildren.
PASSIONS FOR THE KINGDOM
I have served in a variety of positions in the church over the years, but I love working with other women planning and serving in the church, seeking to encourage and bring people together in service..  On a more personal basis, I desire to learn more and more of what it means and what changes I need to make to become more like Jesus.
FAVORITE BIBLE VERSE
"For I know the plans I have for you", says the Lord, "plans to prosper you and not to harm you, plans to give you hope and a future."      Jeremiah 29:11
HOBBIES
Crafts, reading, sewing, word puzzles, attempting to write my story.
RECOMMENDED BOOKS
Walking from East to West, Ravi Zacharias
Jesus Calling, Sarah Young – Devotions for every day of the year
Lord, Change Me, Evelyn Christiansen – an older book that had a big impact on me