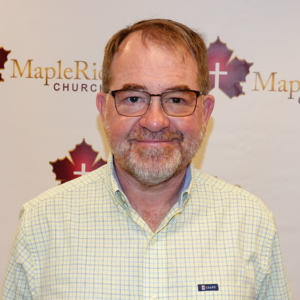 RESPONSIBILITIES
Elder
MY FAITH JOURNEY
My parents decided to follow the way of Jesus before I was born and they did all they could to direct and encourage their 5 sons to know God, to accept his rescue from sin and to follow the way of life that Jesus taught his disciples. I was convicted of my own sinfulness as a young child and was drawn to the place of being personally convinced of God's love for me in high school when I accepted His promised forgiveness of my sins and rebellion and a new life in Jesus. I have continued to this day to study and test the reality of the God who reveals Himself to us through Jesus Christ and His Word, the Bible. I am convinced that God is who He says He is and that He is worthy of our complete trust and devotion.
FAMILY
I am married to Carol (Gunderson) Kramka.  We have 3 adult children and 2 grand children.  My mom is Marjorie (Marge) Kramka.
PASSIONS FOR THE KINGDOM
It is my continuing desire to trust and obey God, who reveals himself to us through the life of Jesus and his WORD. It is also my intent not to worry about tomorrow but rather to seek first his kingdom and his righteousness in the confidence that God is truly good and all powerful as he claims. I wish to live as an ambassador of God's kingdom and Christ's church.
FAVORITE BIBLE VERSE
Matthew 7:7—11   NIV:  Ask and it will be given … give good gifts to those who ask Hm!
HOBBIES
Reading for instruction and discovery, helping people fix things, classical music
RECOMMENDED BOOKS
All things written by C.S. Lewis, Philip Yancey, and Tim Keller
Alexander Hamilton and Grant; both biographies by Ron Chernow
The Hole in Our Gospel by Richard Stearns