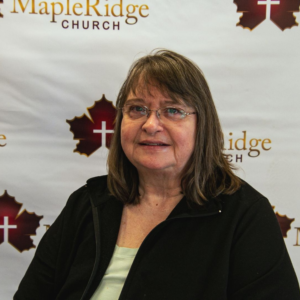 RESPONSIBILITIES
Church nursery care for infants through age 3
MY FAITH JOURNEY
I was brought up in a church family of Lutherans. My Mother was Southern Baptist.
FAMILY
Husband: Dan
Daughters: Tracie & Holly
Son: Tyler
Grandchildren: Olivia & Noah
PASSIONS FOR THE KINGDOM
I started watching children in a church nursery back in 1986. I took a year off in 1997 because we had moved farther away from the church for which I was working.  In 1998 I saw an ad requesting help for the nursery here at MapleRidge and I felt like God was calling me back to serve families once again. I have been at MapleRidge since that time. I have always loved children and I feel that this is a calling for me. I love to be with the children and the excitement when they talk about Jesus — even when they are so young.
FAVORITE BIBLE VERSE
Proverbs 3:5
Trust in the LORD with all thine heart; and lean not unto thine own understanding.
HOBBIES
Being with my grandchildren, movies, music, relaxing.