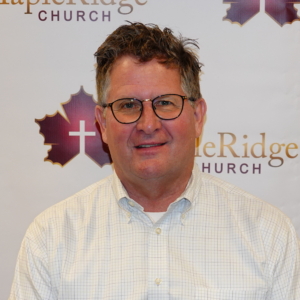 RESPONSIBILITIES
Develop a repeatable process of budget management to deliver fiscal responsibility to MapleRidge members.
MY FAITH JOURNEY
I grew up attending a Lutheran church, but did not have a personal relationship with Jesus Christ until I came to know Him late in high school through the Fellowship of Christian Athletes group in high school.  My decision to accept Jesus at that time was a primary reason that I then attended Bethel College.  During my four years at Bethel, I grew in my faith and really learned for the first time what it meant to have a personal relationship with Jesus Christ.  In the years subsequent to college I've been able to deepen and strengthen that relationship, but as I'm the first to admit, the phrase "please be patient, God is not finished with me yet," definitely applies to my life.
FAMILY
While at Bethel I met the incredible Beth Rainbow.  Beth and I began dating senior year and were married the year after graduation.  Beth and I have three adult children, all of whom are now living in the Twin Cities area:  Aaron, Abby (Wadsworth) and Ben.  In addition, Beth and I are the proud and doting grandparents of three grandchildren:  Hannah and James Wadsworth; and Asher Thom.
FAVORITE BIBLE VERSE
Candidly, my favorite verse has changed several times over the course of my life.  My current favorite verse is Psalm 133:1:  "How good and pleasant it is when God's people live together in unity."  Sadly, that verse seems more aspirational than real in these times, but through God all things can be accomplished, so I continue to pray for unity on many, many fronts.
HOBBIES
I grew up actively participating in sports through high school and college, and my interest in sports has certainly continued into later adult life.  In addition, Beth and I very much like to travel to historical venues and to our cabin in Colorado, where we and the family really enjoy hiking and just spending time in God's amazing creation.  I love to read when time permits; history is probably my favorite subject.  Finally, I've had a life-long fascination with business, and throughout my career I've been privileged to hold a number of different and varied positions that enabled me to scratch that business itch!