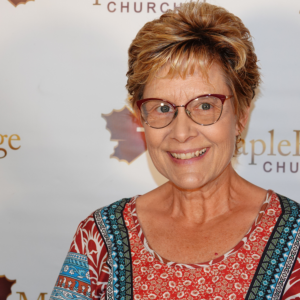 RESPONSIBILITIES
Help to create a warm, safe, fun and loving place for the precious little ones of our community while their parents or grandparents are in worship or in a class.  Also, to give the parents the peace of mind that their children are well cared for.
MY FAITH JOURNEY
At age 12 I attended a Billy Graham conference and that sparked my heart to learn and grow in the Lord and the promises of His Word.  I am so thankful that the Lord called me at a young age to trust His saving grace.
FAMILY
I have been married to my husband, Pat, for 37 years.  We were blessed with five children and now have three wonderful grandsons.
PASSIONS FOR THE KINGDOM
To share the love of the Lord with all and bring light to wherever the Lord leads me.
FAVORITE BIBLE VERSE
Proverbs 3:5-6:  "Trust in the Lord with all your heart, lean not on your own understanding.  In all your ways acknowledge Him and He will make your paths straight."
HOBBIES
Baking, gardening, walking and being with family and friends.
RECOMMENDED BOOKS
The Christmas Box Angel
Jesus Calling