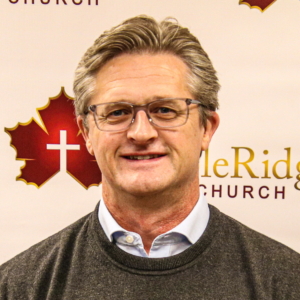 Lead Pastor at MapleRidge Church
MY FAITH JOURNEY
I grew up in a church-going home but did not have a personal relationship with the Lord Jesus Christ until I was in high school.  After I repented of my sin and trusted Jesus as my Savior and Lord I was nurtured in my new faith by the high school ministry of CRU.  While attending North Dakota State University I met my wife.  We joined the full-time staff of the CRU high school ministry and served in the Twin Cities while members of Bethlehem Baptist Church.  I attended Bethel Theological Seminary while serving on staff of Hillside Church in Bloomington, MN as the Pastor of Student Ministries and Leadership Development.  In 1998 I accepted the call as the Lead Pastor at First Baptist Church of Eaton Rapids, MI.  In 2015 I became the Lead Pastor of MapleRidge Church in Maple Grove, MN.
FAMILY
Marcie and I were married in 1985 and we have two adult children.
PASSIONS FOR THE KINGDOM
Being a part of a team of gifted men and women committed to building in the Kingdom of God on earth by growing in our passion for God, love for each other and compassion for those who need Jesus.
FAVORITE BIBLE VERSE
I have other sheep that are not of this sheep pen. I must bring them also. They too will listen to my voice, and there shall be one flock and one shepherd.  (John 10:16)
HOBBIES
Playing hockey, reading history, and following current events.
RECOMMENDED BOOKS
Surprised by Hope, N.T. Wright
Revival, Martyn Lloyd-Jones
The Rise of Theodore Roosevelt, Edmund Morris
The Bourgeois Virtues, Deirdre McCloskey
The Soul of Battle, Victor Davis Hanson