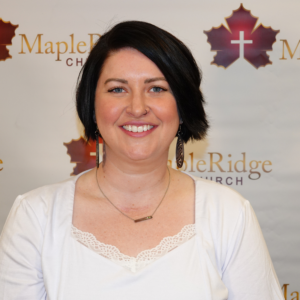 RESPONSIBILITIES
Elder Board
MY FAITH JOURNEY
I spent time in church as a child, but much of my time was spent in the nursery where my mom worked.  It wasn't until college when I really found that I wanted to know more about Jesus.  There I met my roommate who had a spark about her that I was drawn to. She had a heart on fire for Jesus and she spent countless hours talking to me about Him and praying for me to know Him. I was going through some very difficult times and she reminded me that I wasn't alone – that there is a God who knows me and loves me and will bring me peace and joy like I've never experienced before if I only trusted in Him.  She had this peace and joy about her and I admired it.  It wasn't until a few years later when I really felt my life was unraveling and I was at a loss on where to turn for hope, when a preacher came on the TV after the movie I was watching had ended.  He told about a God who saw me and met me right where I was. For the first time I really felt like God saw me, He was speaking directly to me, and I surrendered.  I prayed with him at the end of his sermon to accept Jesus as my Lord and Savior. My husband and I started attending MapleRidge Church soon after that and I was baptized a year later.  We have been attending this church for nearly 11 years now, serving in many capacities.  We continue to be in awe of all that God continues to do through the preaching and the people of this church.
FAMILY
My husband Josh and I have been married since 2008.  We have two young children – Olivia and Noah.
PASSIONS FOR THE KINGDOM
I have served in children's ministries and hospitality and been involved in the choir.  Most recently I have felt a call towards women's ministries – specifically leading younger women and those with young families.  My passion right now is walking through life together with these women as we grow to know God on a deeper level in this stage of life.
FAVORITE BIBLE VERSE
Psalm 46:10 which states "Be still, and know that I am God!" This jumped out at me on a bus ride home from work one day.  I saw it printed on the side of a car that was high in the air on a pole on I-94 that simply said "Psalm 46:10."  It caught my eye on a rough day and I grabbed my phone to look up the verse.  It gave me peace in that moment and it continues to to this day.  Be still – God's got this.
HOBBIES
My husband and I met working at a video rental store (remember those?) so we both have a passion for movies and TV.  I also love all crafty things, painting, drawing, and decorating.
You can contact Tracie at tracie@mapleridgechurch.org