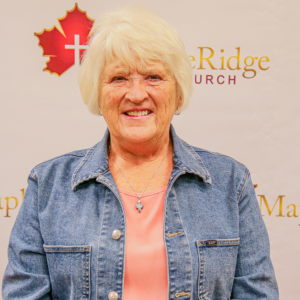 RESPONSIBILITIES
My desire as a Deacon of Care is to organize a team that will provide compassionate and confidential care for our MapleRidge Church family and community.  We will display a love for the Lord, exhibit passion for fellowship and caring ministries by using our God-given fits to care for others.
MY FAITH JOURNEY
I was blessed to be raised in a Christian home.  As I mature, I have become even more in love with the Lord.  We started attending MapleRidge 35 years ago and have been involved in many vrious ministries of the church.
FAMILY
My husband, Randy, and I have been married for 54 years.  We have three married children, five grandchildren and six great grandchildren.
FAVORITE BIBLE VERSE
My favorite Bible verses are:
Isaiah 40:11 – "He gathers the lambs in His arms and carries them close to His heart."
Isaiah 41:13 – "For I am the Lord, your God, who takes hold of your hand . . . and says I will help you."
Psalm 73:23 – "Yet I am always with you; you hold me by my right hand."
HOBBIES
Anything outdoors — walking, golfing, fishing boating, etc., especially with the grandkids.