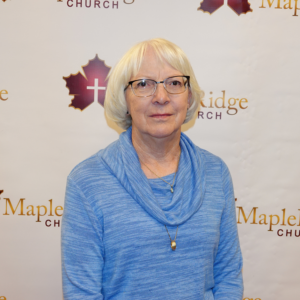 Deacon of Congregational Life
RESPONSIBILITIES
As Deacon of Congregational Life, my job is to plan and promote church fellowship pportunities to help build relationships within and outside the church.  This includes RidgeBridge, weddings, funerals, and church socials.
MY FAITH JOURNEY
I have always believed in God, but did not know what it was to have a relationship with Jesus.  I accepted Jesus as my Lord and Savior in 1984 while attending Elm Creek Chapel in Brooklyn Park.
FAMILY
Reynold and I were married in 1973.  We moved from Iowa to Minnesota in 1983.  We have two children and a daughter-in-law and a grandson.
FAVORITE BIBLE VERSE
Psalm 46:10 – "Be still and know that I am God."
Romans 8:28 – "And we know that in all things God works for the good of those who love Him, who have been called according to His purpose."
Proverbs 3:5-6 – "Trust in the Lord with all your heart and lean not on your own understanding, in all your ways acknowledge Him and He will make your paths straight."
HOBBIES
Spending time with family, crafts, reading and traveling.